I
n developing this website about the
Rabaul Nurses
of the Second World War (WW2 1939 - 1945) my desire is to expand on, as well as provide awareness of
Alice M Bowman's
Not Now Tomorrow
— the story of seventeen
Australian army and civilian nurses
from New Guinea who were captured and imprisoned by the Japanese. Bowie's published story is the only personal account written by one of the Rabaul Nurses and she has unwittingly made a small contribution to Australia's war history and provided further information for the research of Nurses in Wars. Marriage to my father in 1951 brought Alice M Bowman into my life. It is my hope that information on this website will stimulate interest in events surrounding the dramatic, swift fall of Rabaul and the
Montevideo Maru
prisoner-of-war tragedy. In 1942, after the fall of Rabaul and Singapore, Australians were in grave fear of a Japanese landing somewhere on our vast coastline. Air-raid practice at primary school in Queensland is a well remembered activity by the author of this website.
Claire Déglon Marriott
Publisher's word & more about the Story
In 1942, New Guinea was a Mandated Trust Territory of Australia granted by the League of Nations in 1921. Rabaul stood on this Australian protected soil as the centre of Administration and few people are aware of the misfortune that struck this territory, significant to Australia, in January 1942 when it fell into Japanese hands. A small Australian battalion fought at Rabaul and was vastly outnumbered by an overwhelming invasion force; shocking loss of life, imprisonment and horrific executions of those attempting to escape followed. The seldom mentioned plight of the local Chinese community, of the indigenous population and the Missionaries were all tragic events, and the situation of the nurses, Army and civilian, no less significant. The final result of the fall of Rabaul lingers in the everlasting trauma of loved ones of those who have no known grave or who have supposed graves over which there are shadows of doubt — and I refer here to the sinking of the prison ship Montevideo Maru. This ship's sinking is gaining attention rapidly; it remains to this day Australia's greatest maritime disaster and a debt of gratitude is owed to dedicated groups of interested people striving for appropriate acknowledgement.
Alice M Bowman, who preferred to be known as Bowie, married my father some years after they had both returned from the Second World War. They left Australia to live in South Africa, which was my father's birthplace and to where he had always longed to return. Bowie continued her nursing in South Africa before and after my father died in 1977 and ten years later made a nostalgic trip home to Australia. It was her intention to eventually return permanently to her beloved country but, sadly, lack of finance and declining health in the next decade prevented Bowie's return and she died in South Africa in January 2000. Many nurses, who have worked with Bowie or did their training with her, have contacted me since reading her story and spoken highly and lovingly of her, among them her prisoner internee colleagues. She has left a wealth of friends in Australia and South Africa.
Birth of a Book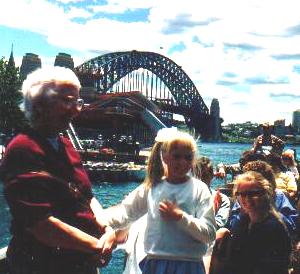 The Author 1987

With the Publisher's family in Sydney
In collaboration with Bowie I researched her manuscript for a number of years to finally produce her book in 1997. I am pleased to have made my contribution in bringing the publication to fruition and thank my family and friends for the support I have received. My husband's artistic talents have enhanced the presentation tremendously in appearance and cost, with no artist's commission charges! I am eternally grateful to those stalwarts of the Australian Army Nursing Service, retired and present members, who received Not Now Tomorrow with open arms. It was described as a gift from heaven, surfacing at a time when there was little knowledge of the six Australian army nurses who served in Rabaul; who were captured and became prisoners-of war with the first Japanese occupied territory in the Pacific significant to Australia. The book was in reality a gift from Bowie. Sadly, it was not possible for Bowie to journey to Australia to indulge in what would have been an enterprising and rewarding author tour, consequently marketing was not as intense as it should have been. I am thankful for the reviews presented in several newspapers and magazines around the country in 1997 and an extra special thank-you goes to Ian MacNamara of Australia All Over and Northern Rivers ABC radio for such stimulating interviews. Although a lot of time has passed since Not Now Tomorrow was published, it continues to attract interest.
Top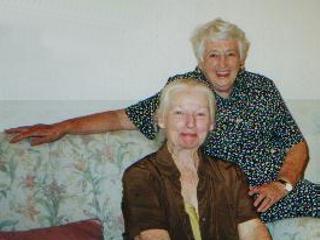 Whytie and the Publisher 2002
Public awareness of the historic facts about Rabaul is gaining momentum along with the plight of the nurses captured in New Guinea, both army and civilian — the army nurses being among those hostages to fortune; a harsh destiny opted by the Australian Government late in 1941 — an option also extended to the civilian nurses, who were given permission from the government to remain. Until Bowie's book was forthcoming no intimate book had been published about the Rabaul Australian army nurses, prisoners-of-war, as there had been about the Singapore AANS nurses captured escaping from the fall of Singapore and their horrendous three and a half years imprisonment. Two accounts of their imprisonment were published in 1954, written by two of the captured Australian Singapore nurses: White Coolies by Betty Jeffery and While History Passed by Jessie Simons. Needless to say they are particularly moving stories; the one White Coolies was produced as a widescreen film, Paradise Road, in 1997. On their departure from Rabaul to an undisclosed destination the Rabaul Nurses were told they would be going to Paradise! The Japanese favoured this exotic description of their country — the Lord of Infinite Light is said to dwell in Paradise in the Pure Land in the West of Heaven. To the true followers of the strongest Buddhist sect in Japan, Jodo-shinshu (True Pure Land Buddhism), their islands were considered the land of Paradise, an extension on Earth of the greater sphere above.
That Rabaul suffered great tragedy when it fell into Japanese hands and that there are unanswered questions concerning many who did not return there is no doubt. Bowie's story could not have been told without covering some of the debacle that was Rabaul, yet first and foremost it is the story of the Rabaul Nurses, and it was decided accordingly to put pen to paper under Bowie's maiden name.
In 1941, Bowie and her best friend, Joyce McGahan, pictured (standing) on the cover of Not Now Tomorrow with Bowie (seated) enlisted in the Australian Army Nursing Service. Under the supervision of Dr Brennan, the then Director of Public Health in New Guinea, they successfully passed the entrance exams and medical requirements (conducted in Rabaul) and were patiently awaiting call-up. The Japanese struck all too soon before they received their call-up papers — as an example of time delay, Gladys Isobel Pollock enlisted in Queensland at the end of 1940 and did not receive her call-up until October 1941. Working for the Australian Government, they were serving their country but their wish was to formally answer Australia's call in the Australian Army Nursing Service. Bowie and Joyce did not know it then, but, when the first bombs were dropped on Rabaul, on the 4th January 1942, it was their destiny to serve in the front line of duty during the brief assault on an inadequately fortified Australian outpost. The civilian nurses from the Administration hospital in Rabaul and Kavieng were in the employ of the Australian Government and were granted permission to stay at their posts when all women were compulsorily evacuated. To have given recognition of their service with automatic enlistment into the Australian Army Nursing Service would have been a noble gesture on the Government's part, especially in light of the knowledge that a known four of their members had applied to join the army nursing service ranks. Surprisingly two of these, Grace Kruger and Jean McLellan, were rejected on application in Australia before accepting positions on the staff of the Rabaul hospital! Since reading Australia's Forgotten Prisoners by Christina Twomey I wish to add Dorothy Maye's contribution to duty as reliably quoted in this book. Bowie has mistakenly said in NNT that Dorothy Maye received an OBE for 25 years of service, She in fact received an MBE (Civil) in 1950 as did Dorothy Beale in 1952. This would have been a token offering on the part of Government in light of the fact that Major Edmonds-Wilson recommended her for an OBE in 1945 for her gallant work as the sole nurse at Kavieng during the onslaught of the Japanese in 1942. His recommendation apparently had the approval of the Army but not the Defence Minister at that time; it seems that the medal could only be given for military service.
The Rabaul Nurses of the Second World War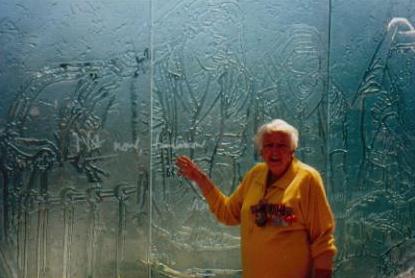 Lorna (Whytie) Johnston 1999

Unveiling of
Australian Service Nurses National Memorial
Anzac Avenue Canberra © Claire Marriott
No greater respect can be bestowed on the Rabaul Nurses than to have the significant title of the book about them etched in perpetuity among the engravings on the Australian Service Nurses' National Memorial in Anzac Avenue, Canberra. It is a lasting tribute to the memory of the Australian Army nurses of Rabaul who were literally lost in time for three and a half years; a tribute also honouring their civilian colleagues. They willingly gave their service in the call of duty and, as captives, shared the same uncertain fate, the same anxiety and the same faith in tomorrow. As prisoners of war they formed an unusual connection and Bowie's greatest wish was to see her story in print as a mark of respect to her colleagues.
With historical books written these days several institutions offer grants to assist with financial outlay for research, production, marketing and the like. No such grant was received for Not Now Tomorrow; the book was produced entirely at the expense of the publisher under the house name of Daisy Press — created exclusively for its publication. Of Bowie's manuscript, it was said to me in 1992 by a senior staffer of the Australian War Memorial that it is a story that must be told and relevant self-publishing material was suggested.

"Their service Our heritage."
Quoted from the Department of Veterans' Affairs Commemorative Program.
As well as presenting the story of the Rabaul Nurses, it is my hope that this website will have a broader issue and stimulate greater interest in the quest to bring forth the truth about those whose graves have yet to be determined and find answers about those desolate souls who are said to lie at the bottom of the sea off the north coast of the Philippines in the hold of the ill-fated prison ship Montevideo Maru.
B
uilding the Rabaul Nurses website has been possible as a result of classes I have attended at the Northern Rivers U3A, and I would like to send my vote of appreciation to U3ANRiv's (now departed for greener pastures) webmaster, Stuart Montgomery, who conducted our "How to Create your own website" class in 2004. Stuart taught us how to create a website using basic HyperText Markup Language (HTML), following this with the more advanced "Style Sheet Rules" method. No templates or other (easily available) "simple steps to create a website" were used by the class. For my site I have chosen Cascading Style Sheet rules, which allow multiple documents to interact and be changed or added to more easily. Books I have on the subject of HTML show there is a great deal more to be learnt (and addressed) to improve my website, but since its aim is to provide information I hope this basic presentation is inviting enough to gain the attention of interested readers. I would also like to add that the site is best viewed on a wide screen resolution of 1024x768 pixels rather than an 800x600 resolution, my apologies to those who do not have the latest wide screen. And again, I thank you Stuart.