T
his
Montevideo Maru
page pays tribute to over one thousand Australian army and civilian prisoners-of-war whose tomb is believed to be a Japanese merchant ship. The small battalion defending Rabaul had no chance of holding out against the mammoth Japanese invasion in January 1942. Some members did escape and equally as many were massacred by the Japanese in this grim period of the Second World War (WW2) at the beginning of the New Guinea campaign — there are many who have "no known grave". Those who were captured and not executed are believed to be entombed in this prison ship at the bottom of the South China Sea, off the northern coast of the Philippines.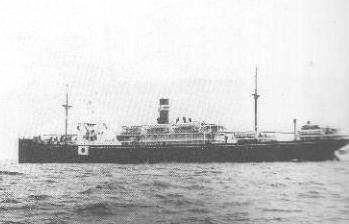 MV Montevideo Maru

AWM Neg. 303640
MV Montevideo Maru
A Japanese Prison Ship
The Japanese prison ship Montevideo Maru was torpedoed and sunk enroute to Japan on the 1st July 1942 by the American Submarine Sturgeon. A lifetime - almost three score years and ten - has passed since the sinking. Mystery surrounding the fate of the Rabaul prisoners-of-war, said to be on board this unmarked Japanese merchant ship, continues to this day to be encircled with uncertainty. The official report stated that all the Rabaul prisoners perished. That all on board the Montevideo Maru perished there is no doubt; controversy surrounds those who lie entombed at the bottom of the sea. "Who were the prisoners on board who perished?" Controversy surrounds those who might not have been on the Montevideo Maru and have no known grave.
On another Japanese merchant ship, also bearing no indication that prisoners were on board, the Rabaul Nurses and officers of Lark Force and New Guinea Volunteer Rifles crossed those same, chilling waters two weeks later. Their vessel escaped enemy attack and arrived safely. Those on board had no knowledge of the fate of the Montevideo Maru.
Did one thousand and fifty-three prisoners-of-war from Rabaul lose their lives on the Montevideo Maru?
845 military men — the greater part of the Australian Army 2/22nd Battalion, Lark Force and support units and men of the New Guinea Volunteer Rifles
208 civilians — the majority who remained in Rabaul or were captured escaping
It is with haunting uneasiness that some descendants and several interested persons fear that a substantial number of prisoners may never have been transported to Japan but executed in Rabaul and have no known grave! Names appearing on the only shipping list located in Tokyo after Japan's surrender were Japanese translations of a muster of prisoners compiled in Rabaul in May 1942, aided by Gordon Thomas, editor of The Rabaul Times. Gordon Thomas was one of the original four civilian prisoners detained for their expertise during the Japanese occupation of Rabaul; all four survived the war. This unique document, known as the Katakana Roll, is now missing! It is almost unbelievable that such an important piece of Second World War Army history, written in Japanese and listing the names of all the prisoners-of-war from Rabaul, could be misplaced. Just before Christmas 2010, a copy of this nominal roll was placed on the internet by the Australian Army History Unit titled: Montevideo Maru Roll 1945 Initial Translation In Memory of Lark Force and the Civilians of Rabaul. Some names are known to be missing!
Relatives of those believed to have perished on the Montevideo Maru, indeed, relatives of all prisoners captured in Rabaul, found comfort for three and a half years in the belief that their loved ones were safe in or near Rabaul as prisoners-of-war. The sinking of the Montevideo Maru and the fate of those believed to be on board was never reported to Australia by Japan; it was, however, reported to the Japanese shipping company who owned the vessel, with additional information that seventeen Japanese merchant crew members survived the sinking and attacks by Philippino guerillas to finally reach Japan. Diverse rumours surrounding the disappearance of so many Australian prisoners circulated at the end of the war in the Pacific, and an investigation, by Australian Authorities in Japan into this mammoth loss of life, discovered (in October 1945) the official Japanese report ".....on the 1st July 1942, the Montevideo Maru was sunk with all prisoners lost." Why were none of the surviving crew members interviewed at war's end when this tragedy was uncovered? Reports (not proven) have come to light that there were survivors among the prisoners and it was believed they would have been taken to Japan after being picked up by a Japanese patrol boat in the area, which, ironically, was to rendezvous with the Montevideo Maru and escort the prison ship to Hainan Island! This information was divulged for the first time in 2003 by Yosiaki Yamaji, the 81 year old, only remaining crewman of the 17 Japanese survivors. Montevideo Maru was a merchant ship owned by the Osaka Shosen Kaisha (OSK) Line. Why were the recent remarks of this seaman and those of his companions, concerning the sinking of their ship, not detailed in the official report of the Japanese Authority controlling requisitioned shipping during the war and the shipping company who owned the vessel?
The Montevideo Maru and the HMAS Sydney
The sinking of the Montevideo Maru in the Second World War is the greatest single maritime loss of life in Australia's history — a fact not honoured and little known. In 2010 the story of the Montevideo Maru gained attention rapidly. The sinking of this ship is on a parallel with the sinking of HMAS Sydney, Australia's worst Naval disaster with loss of that ship's entire complement of 42 officers and 603 ratings — a fact very well known and honoured. The sinking of these two ships, less than eight months apart, was never resolved until events of March 2008 in relation to finding HMAS Sydney satisfactorily closed that ship's role in this disastrous chapter of Australian war history.
We know that HMAS Sydney sank with loss of life of all on board on 19th November 1941. We know that the Montevideo Maru sank on 1st July 1942 and have been advised that all prisoners on board went down with the ship (advice not truly substantiated) and that most members of the Japanese crew of 88 officers and seamen and guards also perished. In 1945, the government of the day refused to seek further information into this disaster; the report from Japan was officially accepted and the investigation closed. This was never a satisfactory conclusion for the relatives of those who did not return; it must be remembered they had waited without word for three and a half years. It should be remembered that the official Japanese report to the Merchant Shipping Company stated that a very small number (purportedly seventeen) of the Japanese crew eventually reached Japan — they were the remainder of those few who survived the sinking and did not perish at the hands of hostile natives and enemy stragglers on reaching Luzon in the Philippines! What information did these surviving crew members hold? They must surely have been questioned!
It is a sad fact that the fate of all the Rabaul prisoners-of-war may never, unequivocally, be determined and controversy will always accompany this disaster. If there were to be an official Australian Government inquiry into the sinking of the Montevideo Maru and extensive investigation into disturbing stories which have surfaced concerning some prisoners purportedly on board, it is possible some facts might yet be uncovered and years of speculative doubt ended. It should be noted that the hospital ship Centaur went in search for survivors of Sydney and rescued some of the 300 German survivors (including the Captain) from HSK Kormoran, the German ship responsible for sinking HMAS Sydney. In May 1943 Centaur met the same fate as Sydney when she was sunk off the Queensland coast by a Japanese submarine; there were only 64 survivors of the 332 persons on board. The wreck of this hospital ship has now been found and will be protected by the Australian Government's Historic Shipwrecks Act of 1976 and the site will become a memorial to those who lost their lives on her. These shipwrecks are in Australian protected waters, (under surveillance) where strict rules apply in relation to them. The Montevideo Maru has no such protection by Philippine Government Legislation where she lies at rest in the Philippine Exclusive Economic Zone and, without international shipwreck intervention, at this stage the site can only be declared an "official war grave"; of major concern is the protection of the site from looters.
Those who lose their lives at sea have no permanant memorial, British and Australian naval casualties are commemorated by erecting a memorial on land near the site of the ship's sinking. For many years there has been a memorial on the site of departure of the Montevideo Maru on Simpson Harbour at Rabaul and now there is a memorial to those lost on the Montevideo Maru at Subic Bay in the Philippines. The recently formed Rabaul and Montevideo Maru Society is raising funds to erect a permanant memorial at the Australian War Memorial in Canberra to honour all those who lost their lives, including the civilians, following the Japanese invasion of the New Guinea Islands in the Second World War. A site has been selected and it is intended to unveil the memorial in 2012 on the 70th Anniversary of the sinking of the Montevideo Maru. This is a mammoth task and donations as well as more members are sought. The website address is: http://memorial.org.au
Top
Norwegian Ship MS Herstein Defensively Equipped Merchant Ship (DEMS)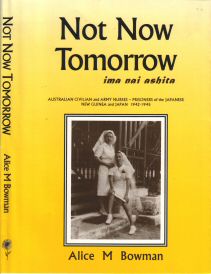 The fate met by the Norwegian crew of Herstein, a Defensively Equipped (Norwegian) Merchant Ship, is a little known important part of this tragic, unresolved saga. They, too, were prisoners-of-war believed to be on the Montevideo Maru — they are remembered in Not Now Tomorrow. Norway had the largest merchant fleet in the world — almost one thousand ships — when she was invaded by Germany in April 1940. Norwegian merchant shipping and twenty-seven thousand merchant seaman remained loyal to their Norwegian King and were placed in Allied services under the auspices of the Royal Norwegian Government displaced in England. Herstein arrived in Australian waters from America, in November 1940, and was assigned to the Australian Shipping Control Board. This merchant ship with its brave merchant seaman was also one of the ships searching for survivors of HMAS Sydney when she was sunk by the German raider in 1941; ironically, a little more than seven months later Herstein's Norwegian crew were to meet an equal fate!
Following this fruitless search for HMAS Sydney Herstein was sent, on 28th December, with the DEMS ships Aquitania and Sarpendon and four naval escorts (ZK5 Convoy) to Port Moresby from whence she was to proceed to Rabaul with supplies and ammunition for the garrison. Her orders were to return to Australia after loading that precious commodity of the islands — copra. On 20th January, three days before the Japanese invasion, there was a fierce bombing raid on Rabaul; the MS Herstein was a drifting inferno until she sank the next evening as a result of direct hits received — her highly inflammable cargo hastened her fate. The ship's steward from Sweden was killed. A civilian escapee from Rabaul, Eric Howard (Master of a small Administration vessel), records in the Pacific Islands Monthly (PIM) of March 1942 the heroism of the Herstein's gunner who remained at his post, with fire surrounding him, shooting in defiance at the attacking Japanese aircraft. Eric Howard states that this brave man was American — it is fair to assume that, at such a time, the maritime fraternity of Rabaul would have been well acquainted with Herstein's crew. I have reviewed my research and am now confident in saying that I believe this man that the Pacific Islands Monthly claims to be Eric Howard is in fact an error in the spelling of his name; he is Eric Howitt, skipper of the Administration's 40 ton vessel, Leander. Eric Howitt together with Ernie Vider, skipper of the disabled Administration vessel, Eros, made the decision on 22nd January 1942 to escape Rabaul and save Leander; they arrived in Port Moresby on the 30th January with thirty evacuees on board, among them AWA staff from Rabaul who were responsible for sending signals to evacuate escapees from the south coast area of New Britain. On the 2nd of February Leander was commandeered by the Royal Australian Navy. Eric Howitt survived the war in the RAN and achieved the rank of Lt-Cmdr, RANVR; he was awarded the Legion of Merit by the Americans in 1944 for his outstanding services to America in action against the Japanese on the north coast of New Guinea and New Britian and in 1945 was Mentioned in Dispatches for outstanding courage, skill and initiative — this same strength of character he had already revealed on 22nd January 1942. Among the names of those purported to be on the Montevideo Maru are at least four civilians (three from Administration) who opted not to join Leander when the offer was made. This shows an example of the lack of understanding of imminent danger among many of the civilians and confusion regarding what to do until the enemy was virtually on New Britain's soil. It also helps to accept the fact that, with no official direction, few (especially Government staff) would have fled on Herstein before she was destroyed on 20th January. A request was made to use Herstein and was denied. Tribute must be paid to those who escaped especially when their story is entwined with those who did not.
The very admirable Warsailors website http://www.warsailors.com/POWs/pows2.html#herstein places on Herstein's crew list: Jack Hansen (mess boy) from the USA. Among the missing New Guinea civilians (October 1945 Pacific Islands Monthly) against Jack Hansen's name is written: "officer on ship Herstein" which seems to indicate he was more than a "mess boy"; address of his next-of-kin: Fru Sigrid Hansen, Korfuves 25, Copenhagen, Denmark c/o Danish Consulate Sydney. It is of interest to note that no other crew members are named among the missing Rabaul civilians in this widely read Pacific publication and this can only place more emphasis on Jack Hansen. Herstein's crew had its full complement of officers and possibly the position of "mess boy" (in name only) was the option offered to this Danish merchant seaman, Jack Hansen, wishing to leave American waters and serve on a ship closer to his nationality; this could explain his being assumed to be from the USA. Without further research it could be assumed that Jack Hansen had long worked on American coastal waters and adopted an American accent! Many Danes remained loyal to the allied powers and would not collaborate with Germany when Denmark was invaded at the same time as Norway. The mystery surrounding Jack Hansen lies in Eric Howitt's statement about the bravery of the "American gunner". We know Jack Hansen did not escape; he was taken prisoner as verified by a "letter received" in PIM of November 1942 — these letters which the Japanese requested the prisoners write in April 1942 and were subsequently delivered via a mail drop over Port Moresby. Bowie makes mention in her book of injured Norwegian sailors being brought into the hospital with severe burns of the upper body and arms; she does not mention nationality, but comunication in English did not seem to be a problem. Warsailors site names three who were hospitalised — Jack Hansen's name is not one of them. Four others were treated with burns. Reliable information can only have its origin via Herstein's Captain Gundersen who was the only one fortunate enough to escape to freedom and record the story of his ship. It appears thirty-three sailors of Herstein's crew were taken prisoner by the Japanese and are believed to have perished on the Montevideo Maru; twenty-seven were Norwegian, whose names appear on the memorial for Norway's merchant seamen at Stavern, Norway, three were Swedish, one from Estonia and one from Australia and Jack Hansen from Denmark. One thing we do know for certain is that Herstein carried a very brave merchant seaman trained to man her defensive anti-aircraft equipment.
Merchant seaman were trained in gunnery practice at the outbreak of war, but this did not always meet the need; a ship's crew could be left without someone to man the defence equipment if that crew member signed-off at a given port. The introduction of DEMS ratings, from the Royal Australian Navy, assigned to all merchant ships under the jurisdiction of the Australian Shipping Control Board, solved this problem for ships in Australian waters. These ratings from the DEMS pool, not only operated the defence equipment, but trained merchant seaman as well. This system of manning merchant ships evolved in England in 1939, before the outbreak of war, with the assignment of Royal Navy DEMS ratings.
The assignment to Herstein of two Royal Australian Navy DEMS ratings is an added mystery. It is presumed that the training of these two DEMS ratings for Herstein, who were to join the "stone frigate" HMAS Rushcutter in Sydney for gunnery and possibly radar training in August 1941, had not been completed before Herstein left Sydney with ZK5 convoy for New Guinea on 28th December; to date I have found no record of their names apart from an achival document of the intended aassignment. Training up to eight weeks was extensive and covered all forms of armamant, recruits also needed to pass a basic naval training course of six weeks and with possible leave to be taken before their apointment it is understandable that they would not have met the 28th December deadline; whoever they were these two DEMS ratings were spared the ill-fated destiny of Herstein and her crew. It is hoped that on another DEMS ship they survived the war. One only needs to read the introduction to the book "DEMS? What's DEMS?" by Alexander Bennett Marcus to appreciate the valour and tragic loss of Allied merchantmen in the Second World War and the important role they played. Alexander Marcus, of the Royal Australian Navy, volunteered for service on Defensively Equipped Merchant Ships after serving as Action Stations Mast Head Lookout on HMAS Hobart. In the treacherous sea lanes of the war, keeping supplies and troops moving on merchant ships was an outstanding achievement, especially as these merchant ships were permitted only to play a defensive role.
Barely four hundred men escaped from Rabaul in 1942: soldiers, civilians, air force and naval personnel. Their story of hardship and survival in the unforgiving jungle, Rabaul 1942, is personally told by one of the few 2/22nd Battalion (Lark Force) escapees, Douglas Aplin, and is an epic in itself — a must read story of several different groups and each group's desperate quest for freedom. Captain Gottfred Gundersen's escape story is in this book. Many of the escapees with their valuable knowledge of New Guinea joined the services on reaching Australia and played vital roles in the ensuing years of the war in the Pacific.
Among the captured civilians who are believed to have met their fate on the Montevideo Maru were many First World War veterans working with the Australian Administration. In 1921, New Guinea became a Trust Territory of Australia. The old German New Guinea had been under Australian military rule since its capitulation very early in the First World War and many military men continued an administrative role with the civilian Government when that war ended; others would find the lure of the newly created Civil Administration of New Guinea a challenging career.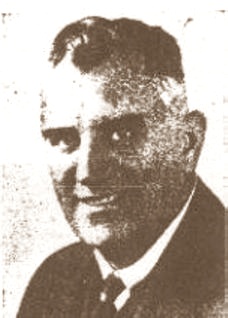 Major Harold Page
DSO MC First World War

Photograph courtesy PIM
Deputy Administrater on whose shoulders responsibility rested
Harold Page (Major DSO MC First World War) of the prominent Page family of Grafton NSW and brother of Sir Earle Page and great-uncle of Don Page, long standing two decade's Liberal National Party Member for Ballina in the New South Wales Parliament, served his country with distinction at Anzac Cove and in France from 1915 to 1918. After completing his BA degree (on return from war service in Europe) he joined the Civil Administration in Rabaul in 1921. Harold Page was Government Secretary and Deputy Administrator in charge of proceedings at the civilian level when the Japanese invaded Rabaul. His attempts to evacuate the civilians as early as 15th December failed and created no alarm in Canberra. His urgent plea to make use of Herstein for evacuation met with no immediate response which undoubtedly could only be translated as copra before people. His proposals were to go before the War Cabinet on 19th January! All too late for the civilians of Rabaul and the Norwegian crew of Herstein. This serves to demonstrate that officialdom in Canberra had absolutely no appreciation of the responsibility faced by one man. In July 1945 the only son of Harold Page, Captain Robert Page DSO (a member of "Z" Special Force), was captured and executed by the Japanese in Singapore, just one month before the war in the Pacific ended. Father and son paid the ultimate price for their country's freedom and the end of the war brought unimaginable grief to the widow and daughters of Harold Page. This was the tragedy of just one family, among more than a thousand who had waited in anticipation for three and a half years, unaware of the grim fate of their captive loved ones.
There is the story of Ardie Schmidt, Head Teacher, (Director of Education, Administration) whose daughter, Cynthia, has carried on the work of her mother and for years has been seeking answers to find the truth about her father. Ardie Schmidt was a member of the New Guinea Volunteer Rifles and his name is listed among those thought to be on the Montevideo Maru, yet, on her return to New Britain after the war, his wife was told by natives who knew him that her husband was beheaded by the Japanese!
In 1960, uncertainty in the hearts of relatives was further stimulated when Bishop Scharmach, of the Sacred Heart Mission and Bishop of Rabaul, produced his book, This Crowd Beats Us All; he expresses an opinion that the prisoners may not have been on board the Montevideo Maru when she was sunk. Japanese Officers went to great pains to inform him of the sinking of the Montevideo Maru and the loss of the civilians on board, followed by more Japanese Officers with the same story. Offering this information to the Bishop so willingly caused him to view it with alarming suspicion.
Many other civilians presumed to be on this prison ship were members of the celebrated New Guinea Volunteer Rifles, formed immediately war was declared in September 1939; First World War veterans were among NGVR ranks also. The book The New Guinea Volunteer Rifles 1939 - 1943 was carefully researched and written by Ian Downs (a member of the Administration for many years) and published in 1999. It covers in stark reality the important role these civilians played in the defence of Rabaul. Under the strict terms of Mandate, which Australia adhered to, no defence force could be formed in peacetime. This unique group of men was the only force established outside Australia to protect territory held in trust by Australia.
Of those to meet their fate comprising Lark Force were 2/22nd Battalion captives, members of the Anti-Aircraft Battery, 17 Anti-Tank Battery, Salvation Army Bandsmen of the 2/22nd Battalion, Fortress Artillery, Engineers and Signals, Division Supply Column, Ordinance Corp, Canteen Services, Dental Unit and medics and orderlies of the 2/10th Field Ambulance detachment. There were also men of the 1st Independent Company and Stephen Lamont, Chief Yeoman of Signals, Royal Australian Navy detachment, who remained with his two sick companions (who later died) and W/O James Fitzgerald Kelly of 24 Squadron, Royal Australian Air Force.
Comprising the Australian civilian population who perished or were purported to have perished on the Montevideo Maru, were Australian Government Administration staff members, including heads of departments, patrol officers, clerks and more. There were plantation owners and managers, private businessmen and company managers as well as members of the Catholic and the Seventh Day Adventist Missions and several members of the Methodist Mission. One of the Methodist Missionary prisoners was the uncle of Kim Beazley of the Australian Labour Party and former opposition leader. With the civilians who were members of the Administration it is interesting to note that, as they were not formally in the service of their country, unless an official paper had been signed their evacuated families in Australia struggled for support.
It is evident that with no attempt by the Australian Government to evacuate the civilian men, they were also to be regarded "hostages to fortune", decreed in 1941 for the garrison defending Rabaul. It should be remembered that the civilian nurses were offered evacuation at the first sign of hostilities (in early December) and chose to remain. The Government nurses were urged by friends on 21st January to accompany them in their planned (successful) attempt to escape; the nurses made the only choice possible in accordance with their profession. Revealed in Not Now Tomorrow Bowie lost the man she intended to marry and the question is again posed: "Can we be certain he was on board this ill-fated ship?" It is difficult to believe that, for a period (now) of sixty-six years since 1945 when this catastrophic sinking became known to authorities, many questions still need answers. Bowie's story is a permanent reminder of this tragic chapter of the Second World War.
I
t appears established that an
unknown
number met an unimaginable fate in the hold of the
Montevideo Maru
. It has
not
been established how many prisoners or escapees might have been executed in Rabaul, or elsewhere, before or after the ship's departure in July and have
no known grave
; there are a considerable number who fall into this category. The
Pratt group of planters
, which included Tom Goss (husband of Rabaul nurse Mary Goss) and a well-known Administration identity, is known to have been executed; the graves of these men have never been found.
In November 2009 the History Channel on Australian Television commemorated this Australian maritime disaster with the airing of John Schindler's exemplary documentary The Tragedy of the Montevideo Maru. This media reached a wealth of people who knew nothing of this very important event of 1942.
On 14 November 2010 Australian viewers watched the ABC telemovie drama, (not a documentary) Sisters of War, which gave quite dramatic insight into the fall of Rabaul and capture of the Rabaul army nurses. The presence of the civilian nurses was nowhere in evidence as too the presence of the capable Government Hospital doctors, Hosking and Cooper, victims of the Montevideo Maru. Two orderlies were left with the nurses at the military hospital to care for patients when the Army doctors decided their duty lay in looking after the hundreds of escaping Lark Force troops. The Army nurses were not told of the doctors' decision and quite rightfully felt abandoned, but were not left without medical support; apart from the Government doctors to call upon there was civilian Dr. Watch, Major, First World War and an officer in the New Guinea Volunteer Rifles as well as the Mission's Dr. Schuey, who was a German neutral. One might speculate on the military doctors' decision to not include the army nurses but it can only be assumed that the choice was made with the best intention in accordance with the status of women at that time.
On viewing
Sisters of War
, most people were left with the belief that there were only six army nurses, a handful of nuns and the Bishop of Rabaul sheltering at Vunapope Mission, which was depicted as a very small establishment, when in fact at normal times the mission housed over three hundred people and on 23 January 1942 there were at least six hundred people present!
Sisters of War
was based on the true story of the fall of Rabaul and centered on the interaction and developing friendship between
Lt. Lorna M Whyte
, Australian Army Nursing Service sister, and Sr. Berenice Twohill — youngest Army nurse and youngest Australian nun at the Sacred Heart Mission. I am proud to be acquainted with these two amazing women. The sensationalism of the dramatisation impacted on viewers the grim circumstances faced at Rabaul after the Japanese invasion and that alone is justification for any important segments left untold; this whole, poignant story could not be covered in a single episode. Yet I, as the author of this website and step-daughter of the author of
Not Now Tomorrow
, would be less than honest if I did not record, as disppointing, the absence of the Australian Government nurses and the four Methodist Mission nurses; they too were
sisters of war
.